Plastic Nursery Trays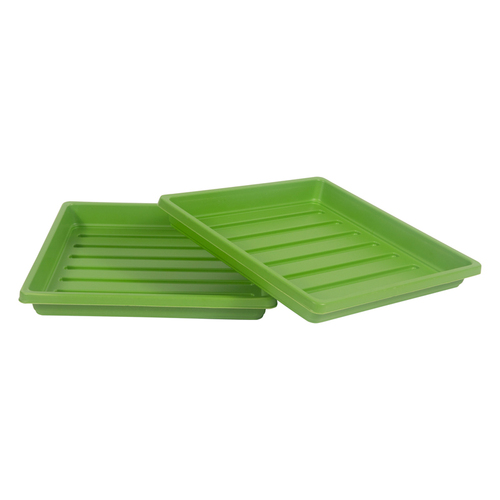 Plastic Nursery Trays
Product Description
1010 Nursery Trays Seedling

Propagation

Trays Flower Pots Carry Nursery Flats
This is a high-quality tray container suitable for seed cultivation. It is also a multi-functional, watertight tray suitable for hole tray transfer. Its unique design makes it suitable for various types of holes seedling trays. The bottom of the tray has no holes and no watertight. It is also very suitable for small-scale planting and cultivation in the home and garden. It is clean, tidy and easy to take care of. It will not let your home be contaminated with soil and water.
Product size: outer upper caliber: 10.63 "X10.63", inner upper caliber: 9.96 "X9.96", inner lower caliber: 9.45 "X9.45", bottom outer diameter: 9.57 "X9.57", depth of the tray: 1.18 ", depth of the groove: 0.2", single weight: 108g.
Careful material selection: the product is made of high-quality new material BPA free, with high toughness, not easy to deform, good thickness and easy to move. Added anti-aging factor, long service life, reusable.

Straight-line flume design at the bottom of the socket plate will let the moisture to reach the bottom smoothly for root absorption, can not only maintain proper moisture, but also prevent excessive moisture from causing root rot, effectively prevent root mixing and root wrapping, and can drain water evenly and maintain strong ventilation at the root. Bottom non porous design: watertight, can be directly seeded and cultivated, can also be used for seed soaking basin, or when used as a transfer tray.
High precision mold opening, pursuing perfect details. The unique fruit green will add a bright color to your home. Especially suitable for family balcony planting, clean and tidy, easy to clean.

Planting advantages of seedling tray: it is suitable for seedling cultivation of all kinds of flowers, vegetables and fruits, which can save the amount of seeds and reduce the production cost; The seedling emergence is neat, which can maintain the consistency of plant seedling growth; It is not easy to damage the root system when transplanting, and the survival rate is high.